Town of 1770 Agnes Water – Festivals & Events
JANUARY

Australia Day 2019 Crab Races
Saturday January 26 at the Agnes Water Tavern, Round Hill Road, Agnes Water. Auction from 2:30pm, cash prizes, live entertainment. Celebrate Australia Day and help our local Rotary Club with this fun family event. Courtesy bus available Phone 07 4974 9469 (+61 7 4974 9469)
FEBRUARY
Agnes Blues, Roots and Rock Festival
HEADLINE ACT
The Black Sorrows
Friday 15th Feb
Gate open 3:00pm to 11pm -Show starts 4pm
Saturday 16th Feb
Gate open 8:15am to 11pm – Show starts 10am
Sunday 17th Feb
Gate open 8:15am to 4pm – Show starts 10am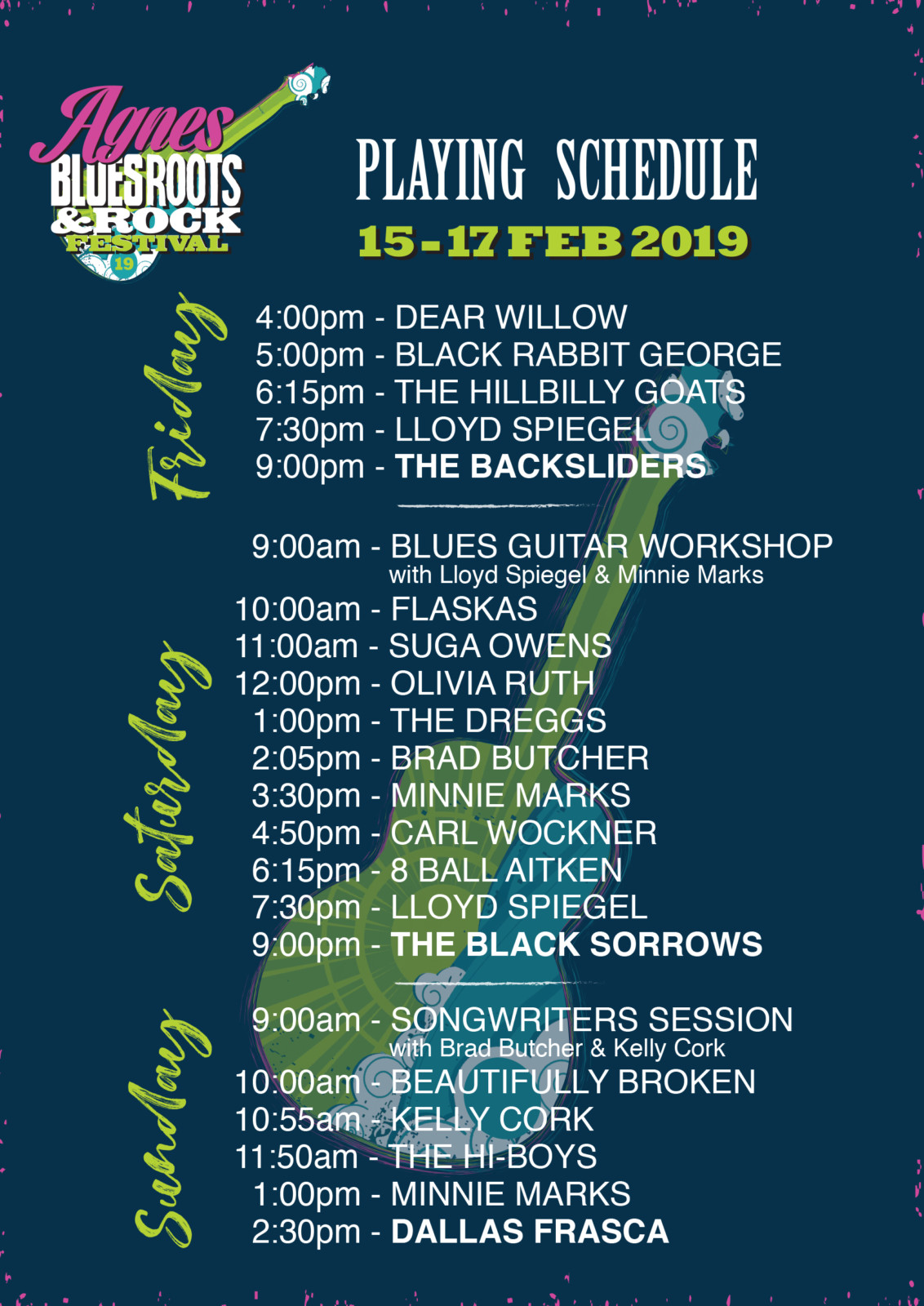 MAY

Annual Captain Cook 1770 Festival
Held annually in May. The 1770 Captain Cook Festival is an annual event commemorating the visit of the HMB Endeavour and the landing of Lt. James Cook and his party on May 24 1770 in Bustard Bay at Seventeen Seventy, as it is now known. This was the first landing for Cook and his crew in Queensland, and only the second landing in Australia (the first being Botany Bay).
The festival also promotes and educates visitors of the indigenous history of the area. The Gooreng Gooreng people are the traditional owners and on the morning of the main festival activities, you can enjoy the dream-time stories of the area and experience performances of traditional dances to the sound of didgeridoos.
Many Australians have little or no knowledge of the historical significance of Cook's landing in Seventeen Seventy. Come and celebrate this year with a re-enactment of Cook's landing with professional actors and period costumes. It's educational and lots of fun.
In 2009 the Festival was also inducted into the Tourism Hall of Fame for the Rockhampton, Gladstone and Bundaberg Tourism Regional Area. 
AUGUST

Agnes Water Orchid & Foliage Show
The Agnes Water Orchid & Foliage Club holds their expo annually in August  at the local community hall in Agnes Water, Queensland. The inaugural Agnes Water Orchid & Foliage expo was about Orchids and foliage and showcased plants from our region.  We are very excited to have this new event in our area.  Entry $3 per person with light food and refreshments available.  There was many vendors selling orchids and plants over the weekend.  This event was hosted to promote our area was open to all visitors and locals.  There were many garden and orchid clubs in attendance.  With over 6o categories with prize money offered to all STOCQ eligible members.
Updated 20.1.19 by lb